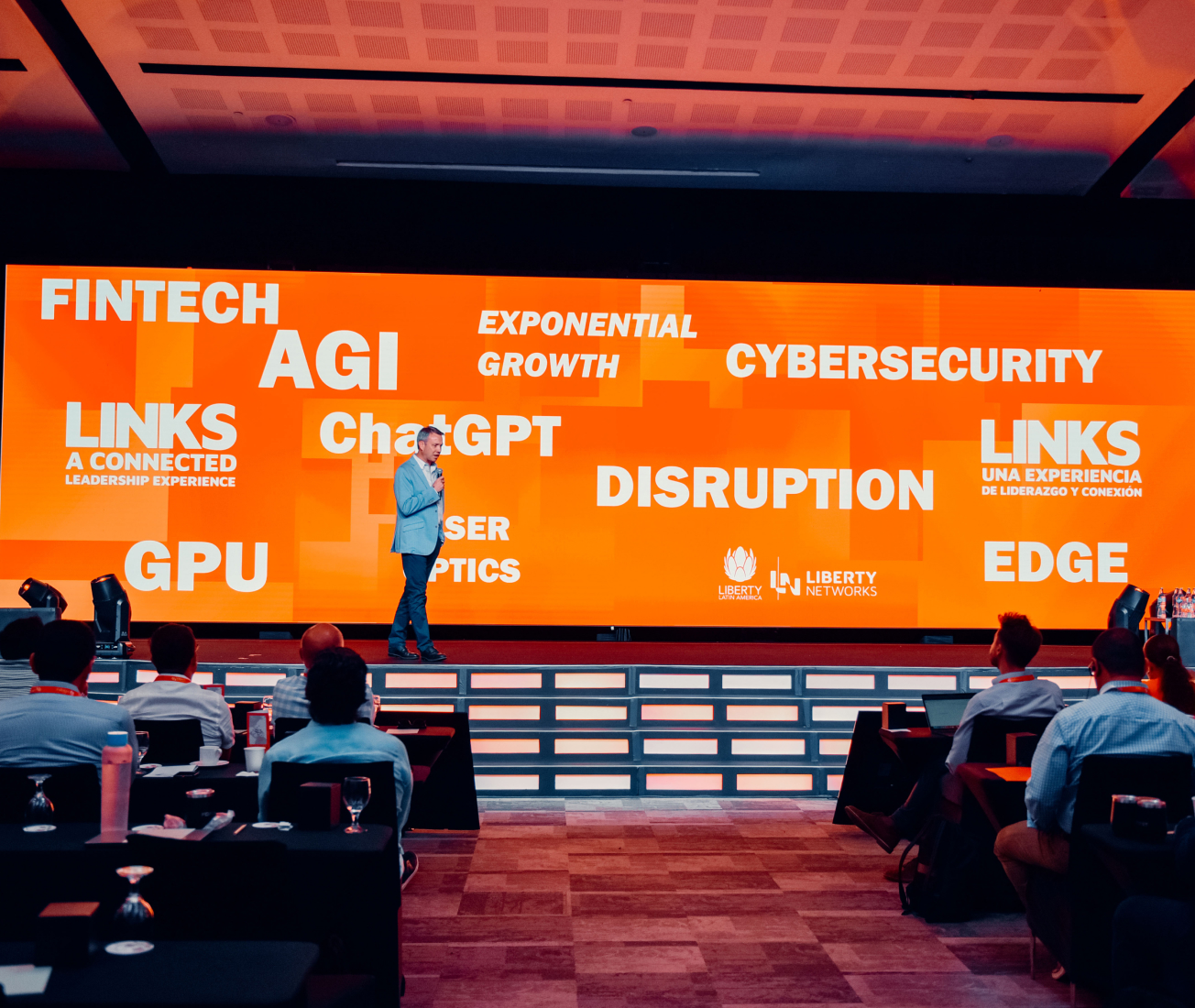 Miami, FL – August 4, 2023: As AI, fintech, cybersecurity, and other emerging technologies continue to disrupt a range of sectors, the telecom industry needs to proactively adapt to the evolution, adopt these technologies, and invest in connectivity and digitalization. That was the topic on the minds of 130+ global leaders from the telecom industry who attended this year's LINKS: A Connected Leadership Experience held at Playa del Carmen and organized by Liberty Networks and sponsored by Infinera and Fortinet.
"The pace of change in the next five years will surpass that of the last decade, with new and rapidly evolving technologies such as AI, the Internet of Things (IoT), 5G/Edge, and cloud computing", said Ray Collins, Senior Vice President of Infrastructure and Corporate Strategy at Liberty Latin America. "In this dynamic environment, Liberty Networks aims to assist customers and businesses in navigating these advancements, not only as a technology partner but also as a go-to-market partner."
LINKS, the first-of-its-kind Leadership Experience in Latin America and the Caribbean, brought together regional and global business leaders from a cross-section of industries to discuss the trends shaping the future of Latin America and the Caribbean. Through a series of keynotes, panel presentations, and networking events, industry leaders learned about the latest trends in the market and shared their experiences and expertise with their peers.
Here are some insights from the event:
Technology is advancing faster and faster: AI, the Internet of Things (IoT), 5G/Edge, and cloud computing are on the list of rapidly evolving new technologies that continue to grow at breakneck speed. And "The pace of change in the next five years is expected to be at least two to three times that of the last ten years," said Aamir Hussain, Chief Technology and Product Officer at Liberty Latin America. To achieve this, public and private investment is needed.
 
Artificial intelligence is more than a threat: This technology is here to stay, so it is necessary to accept change, seek ways to use it appropriately, adapt it to different needs, and learn more and more from it," said Doron Hacmon, global entrepreneur and business professor who presented on "The Great Jobocalypse, Is it too technological for us?"

"In 204 days, ChatGPT onboarded 182 million users," he told the audience, noting that this generative AI tool is just one of the thousands of AI-powered tools that have cropped up over the last six months. "Goldman Sachs predicts 300 million jobs will be lost or degraded by artificial intelligence," added Hacmon.
 
Latin America has become more relevant in a connected world: "Latin America is a breeding ground for innovation. And while connectivity across the region started at much lower levels, it has been catching up rapidly," said Ronald Alvarenga, CEO of InSwitch, a fintech platform that enables companies to offer their financial services. This is because IoT, AI, and XR have the potential to fundamentally change the way we interact with the world and improve lives at scale.
 
Advances in optical laser will materially increase the region's capacity: There is no better technology capable of transmitting more information over various distances, connecting people, applications, and services over long and short distances than these. "Bandwidth doubles every two and a half years and has been doing so for 20 years. So, adding new resources and thinking outside the box will be critical to keeping the industry moving forward and connected. Virtually, everything we do requires connectivity," said Robert Shore, SVP of Marketing at Infinera.
 
Cybersecurity remains in the spotlight: One of the main concerns in the region is cybersecurity. "In Latin America alone, 14.73 billion threats were detected last year; even though we have many cybersecurity experts, we always need more, as there has been a huge increase in cyber-attacks. This is just the beginning," said Fortinet Security Strategist Arturo Torres.

It is increasingly important to protect users' data and, from there, to create a cybersecurity strategy that includes a continuity plan in case the entities holding the data need to respond quickly to problems. Businesses can also take out cybersecurity insurance to further protect themselves.
 
"At Liberty Networks, we look to enable the future of our customers. With LINKS, we wanted to bring together global and regional business leaders to share and discuss their ideas with thought leaders and technology experts so that we all gain insights into how the future will look. By understanding our customer's future needs, we can invest in serving them better," said Collins.
The LINKS: A Connected Leadership Experience is an annual event that seeks to link connectivity providers, industry leaders, and technologists to discuss disruptive trends relevant to Latin America and the Caribbean. Attendees had the opportunity to network and connect with leaders, entrepreneurs, and partners across the globe. To learn more, visit here.
ABOUT LIBERTY NETWORKS 
Liberty Networks is a leading infrastructure and enterprise connectivity provider in Latin America and the Caribbean, connecting approximately 40 countries with nearly 50,000 kilometers of submarine fiber optic cable and 17,000 kilometers of terrestrial networks. At Liberty Networks, we partner with enterprises, carriers, and business communities, leveraging our expansive network infrastructure, next-generation solutions portfolio, and data center network to provide a solid foundation that enables business success across the region. For more information, please visit www.libertynet.com, and follow us on LinkedIn, X, and YouTube.
​​Media Relations:
Claudia Restrepo
​claudia.restrepo@lla.com